Overview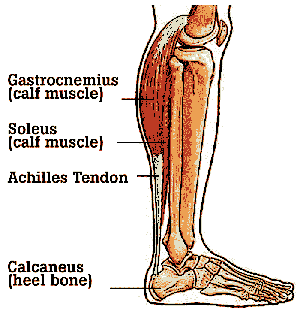 The Achilles tendon is the large cord like structure on the back of the leg just above the heel. It is the largest tendon in the body and has a tremendous amount of force transmitted through it during walking, running and jumping activities. The Achilles tendon is prone to injury, including rupture during periods of increased stress and activity. Common activities causing injury include running, basketball, baseball, football, soccer, volleyball and tennis. These activities require jumping and pushing forces that are possible due to the strength of the calf musculature and the ability of the Achilles tendon to endure this stress. Men from the ages of 30-50 are the most commonly injured during weekend athletic activities.

Causes
The exact cause of Achilles tendon ruptures is hard to say. It can happen suddenly, without warning, or following an Achilles tendonitis . It seems that weak calf muscles may contribute to problems. If the muscles are weak and become fatigued, they may tighten and shorten. Overuse can also be a problem by leading to muscle fatigue . The more fatigued the calf muscles are, the shorter and tighter they will become. This tightness can increase the stress on the Achilles tendon and result in a rupture. Additionally, an imbalance of strength of the anterior lower leg muscles and the posterior lower leg muscles may also put an athlete at risk for an injury to the Achilles tendon. An Achilles tendon rupture is more likely when the force on the tendon is greater than the strength of the tendon. If the foot is dorsiflexed while the lower leg moves forward and the calf muscles contract, a rupture may occur. Most ruptures happen during a forceful stretch of the tendon while the calf muscles contract. Other factors that may increase the risk of Achilles tendon rupture include. Tight calf muscles and/or Achilles tendon. Change in running surface eg: from grass to concrete. Incorrect or poor footwear. A change of footwear eg: from heeled to flat shoes. It is thought that some medical conditions, such as gout, tuberculosis and systemic lupus erythematosus, may increase the risk of Achilles tendon rupture.

Symptoms
Tendon strain or tendon inflammation (tendonitis) can occur from tendon injury or overuse and can lead to a rupture. Call your doctor if you have signs of minor tendon problems. Minor tenderness and possible swelling increases with activity. There is usually no specific event causing sudden pain and no obvious gap in the tendon. You can still walk or stand on your toes. Acute calf pain and swelling can indicate a tear or partial tear of the Achilles tendon where it meets the calf muscle. You may still be able to use that foot to walk, but you will need to see a specialist such as an orthopedic surgeon. Surgery is not usually done for partial tears. Sometimes special heel pads or orthotics in your shoes may help. Follow up with your doctor to check for tendonitis or strain before resuming activity, because both can increase the risk of tendon rupture. Any acute injury causing pain, swelling, and difficulty with weight-bearing activities such as standing and walking may indicate you have a tear in your Achilles tendon. Seek prompt medical attention from your doctor or emergency department. Do not delay! Early treatment results in better outcome. If you have any question or uncertainty, get it checked.

Diagnosis
Most Achilles tendon ruptures occur in people between 30 and 50 years old and such injuries are often sport-related. If you suspect an Achilles injury, it is best to apply ice, elevate the leg, and see a specialist. One of the first things the doctor will do is evaluate your leg and ankle for swelling and discoloration. You may feel tenderness and the doctor may detect a gap where the ends of the tendon are separated. In addition to X-rays, the calf squeeze, or Thompson test, will be performed to confirm an Achilles tendon rupture. With your knee bent, the doctor will squeeze the muscles of your calf and if your tendon is intact the foot and ankle will automatically flex downward. In the case of a ruptured Achilles there will be no movement in the foot and ankle during the test.

Non Surgical Treatment
There are two treatment options available which are non-operative and operative. Non-operative treatment involves the use initially of a below-knee plaster with the foot held fully bent downwards. This usually stays in place for 2 weeks then is changed for a brace(this is a boot from the knee down to the toes with Velcro straps) which should be worn day and night. The brace will be regularly altered to allow the foot to come up to a more neutral position. The brace will be on for a further 6 weeks. After the 8 weeks you will be referred for physiotherapy to regain movement and calf strength but will probably need to wear the brace during the day for a further 4 weeks. Non-operative treatment avoids the risks of surgery but the risk of the tendon re-rupturing, which normally occurs within 3 months of discarding the brace, is 10%.


Surgical Treatment
Surgical techniques for rupture repair are varied but usually involve reapproximation of the torn ends of the Achilles tendon, sometimes reinforced by the gastrocsoleus aponeurosis or plantaris tendon. Open reconstruction is undertaken using a medial longitudinal approach. Studies indicate that patients who undergo percutaneous, rather than an open, Achilles tendon rupture repair have a minimal rate of infection but a high rate of sural nerve entrapment (16.7% of treated cases).